When you're locked out of your car, home, or business, you don't just need a locksmith – you need a local locksmith near you who can arrive quickly and resolve your problem efficiently. At A&N Rappaport Lock & Alarm, we're proud to be your trusted "locksmith near me" in Rockland County, serving Nanuet, Haverstraw, New City, and Pomona.
LICENSED & CERTIFIED LOCKSMITH NEAR ME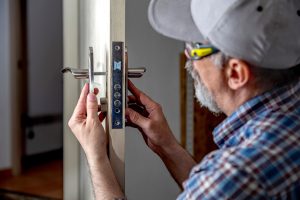 Securing Peace of Mind with Trusted Locksmith Services since 1967
With three strategically placed locations and a dedicated team of licensed and certified locksmiths, we're always ready to assist you, whether it's a residential lockout, a commercial lock issue, or an emergency that requires immediate attention. One of our unique strengths is that our founder, Noel Rappaport, continues to actively run our Veteran-led company, one of the largest of its kind in Rockland County. Our dedication to customer service is apparent in our two locations, which are strategically placed to serve you better.
Locksmith Services
Commercial Locksmith: We offer commercial locksmith services for businesses in Rockland County and the surrounding areas. If you're concerned about the safety of your office, commercial building, or storefront, problems with your locks, keys, or commercial doors, our locksmiths can help you.
Residential Locksmith: If your key is broken or lost, or you have a problem with your lock, our residential locksmith services are what you need.
24 x 7 Emergency Locksmiths: our locksmiths can respond 24 hours per day, 365 days per year, for almost any emergency
We also provide high-security solutions, which include high-security locks, access control, safes, alarm systems, video surveillance systems, and intercom systems.
Our trained locksmiths specialize in emergency lockout situations, so they can rekey, repair, or replace any locks. Our goal is to ensure your privacy and your safety. We understand how urgent these situations can be, so our locksmith services are available in the Rockland County Area 24/7.
We believe that honesty, efficiency, and quality service are the key components in every job we are hired to do. Our locksmiths are qualified professionals with experience in the field. The dedicated locksmiths at A&N Rappaport Locks are always prepared to assist you 24 hours a day and seven days a week. We pride ourselves on great customer service and customer satisfaction. Our locksmiths are only a phone call away.
Need a reliable locksmith near you? Don't wait – call A&N Rappaport Lock & Alarm now for fast and professional service.